Good Enough Is Good Enough
Hi everybody,

It's easy to pay attention and listen to that inner voice which passively talks bad about oneself, their efforts, and their present state. That voice is active in all of us and is specifically louder when we don't feel we're "reaching our goals." This week, I want to talk a little bit about that voice and talk about why being perfect or achieving your aim 100% might not be necessary.

In the 1950s, the pediatrician Donald Winnicott coined the phrase "good enough parent" to help stressed-out mothers be relieved of the excessive self-created pressure of helping their kid in everything. His idea was simple: It is important to deviate from the high ideals and aspirations we set for ourselves when we begin to panic or be stressed out.

While the phrase "good enough" is applicable primarily to sports-moms, it can be applied to other things equally well. Some examples:

- Planned to run 5 miles, but ended up really running only 3? It's ok.
- Tried to sleep on time to fix your schedule, but ended up wasting a little bit of time? It's ok.
- Planned to lose 15 pounds in 4 weeks, but lost 10 pounds in 5 weeks? It's ok.

Simply, it's ok to be good enough and reach your goals 90%, only to avoid that extra (and often unnecessary) panic to achieve the remaining 10%. You may ask why is it "ok" to reach 90% of your goals. Well, the answer is not that you actually reach 90% of your goal or not; instead, the answer lies in understanding the spirit that *in case* you reach only 90% of your goal after try-hard attempts, it's all right.

This phrase "good enough" is even more applicable when we compare ourselves to our peers or to exceptional people. In his book *12 Rules For Life,* Jordan Peterson talks about the "internal critic" and says this:

"When the internal critic puts you down using such comparisons, here's how it operates:
First, it selects a single, arbitrary domain of comparison ( fame, maybe, or power).
Then it acts as if that domain is the only one that is relevant. Then it contrasts you unfavorably with someone truly stellar, within that domain.

It can take that final step even further, using the unbridgeable gap between you and its target of comparison as evidence for the fundamental injustice of life. That way your motivation to do anything at all can be most effectively undermined."

The internal critic, then, must be told that it is all right to be good enough, or else, we're only setting ourselves up for unnecessary misery. Peterson's rule is to "compare yourself to who you were yesterday, not the useless person you are today." Simply then, it will serve us all well to realize that it's all right to be a good enough parent, son, daughter, and friend. It's all right. It's good enough to be good enough, provided you don't use "good enough" as a shelter for other things.

Have a great week ahead,

Abhinav
✍🏽PS: Thank you for reading this! If you liked this, I'd really appreciate if you could spread the word and ask others to subscribe here and read the past issues here. Also, feel free to respond to this if you'd like to chat :)
The Channel
Here, I chat with Salman Ansari. Salman is the founder of two startups, has previously worked at Facebook, has been CTO, a web developer, an iOS developer, an engineering manager, a learner, and a writer. He calls himself a polymath and there was a lot to learn from him about skillsets, success, founding companies, meditation, journaling, discovering your life's purpose, passion, the paradox of success, and above all, productizing yourself.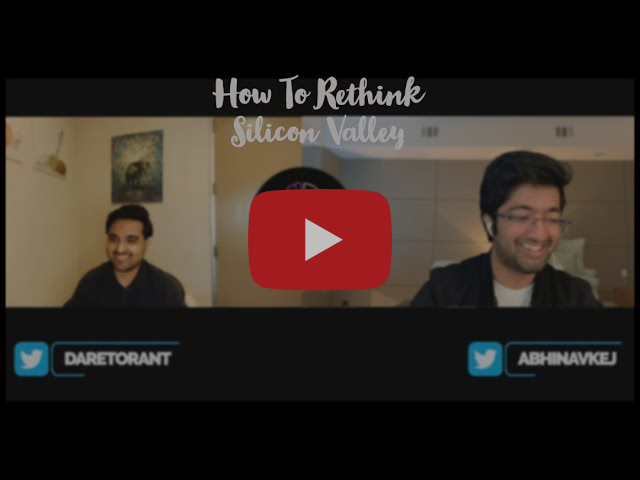 Half A Thought
This week, we have two episodes for you.

In one (here), I interview Salman Ansari (see above for video.)

In another, Ali wraps up our first chapter on Expression by talking about emotional awareness and happiness. Catch it here.
50 Useful Ideas | Our Commonplace Book
I recommend reading this article by David Perell for 50 useful ideas/frameworks to live life by. A fantastic read.