Hi Friends,
Yesterday, my friends in Mobile Developers of Berkeley (a student organization focused on mobile dev) had organized a party in San Francisco. The extraordinarily diligent social committee of the org had put up a fantastic party — they had rented out space with a beautiful view of the bay, had handpicked some of the best bangers from Mo Bamba to Hot Girl Bummer, and had planned the dance, lights, and food in a such a way that 5 hours of fun seemed like only 5 minutes. I wish the party would've continued for longer, but alas, all good things must come to an end (or rather, Good Things Fall Apart.)
That said, let's get to the content of this week's issue. Last week, I talked about fulfillment and pleasure; this time, I wanted to extend and link that concept to different types of "fun." I chanced upon this article by a ski enthusiast Tim Peck wherein he talks about three types of "fun" — Type I, Type II, and Type III.
I had never known that different kinds of "fun" even existed, but upon reading the article, I reflected and realized how true it was — yes, there are different types of fun, and having an understanding of them can help one interpret or approach any situation differently.
Let's get to it then.
Type I Fun: This is the kind of fun that has a relatively low bar for pleasure. Drinks, movies, outings, sports, adventures, parties, events — you get the gist. In Peck's words, "This is what you brag to your friends about, and they are sad to have missed it." In context of last week's issue, Type I Fun is pleasurable.
Type II Fun: Peck says, "While Type 1 is marked with celebratory beers, Type 2 often leaves you feeling like you need a drink!" Hence, Type II Fun is the kind of fun that has a high bar for pleasure or fulfillment. Going for a run, a hike, or to the gym, or even learning to play an instrument — this includes activities that you'd rather not do, but having done them, you're more contented.
Type III Fun: Type III Fun is not fun at all. This essentially includes all the embarrassing stories or incidents you have been part of, that you'd rather not repeat. Getting your party shut down by the police like in Project X or getting your hand stuck between a boulder like Aron Ralston, this type of fun is funny only when you look back on it, not when you're in it.

Now, I would rather not make a value judgment on the different kinds of fun (I have fun at parties and at the gym), but I do find it valuable to have an understanding of these and where they stand in the 'fulfillment vs pleasure' spectrum. The idea is to simply use this understanding and make any type of fun (1, 2, or 3) increasingly fulfilling, for at the end of the day, all kinds of fun are subjective.

I drew out this 2 by 2 matrix, which helped me internalize this concept and link it to fulfillment vs pleasure.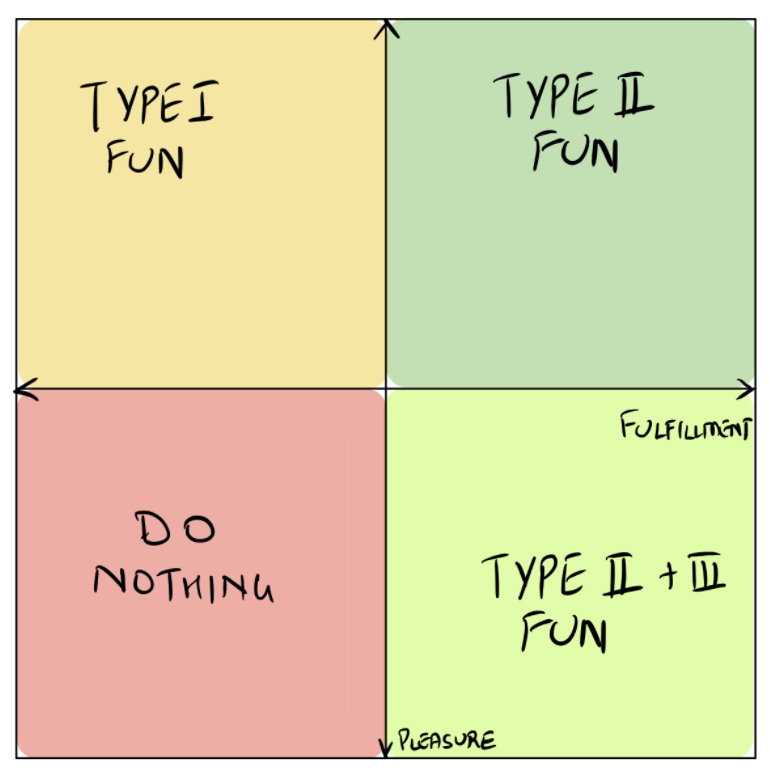 Have a great, fun week ahead!

Cheers,
Abhinav
Video of The Week
In this week's video, I explore the mindsets that have helped me grow as an individual. From talking about the classic fixed and growth mindsets to applying novel concepts like "antifragility" to oneself, I talk about 5 key mindset shifts that have helped me become better.
Podcasts of The Week
Not Overthinking | Book Discussion | Notes From Underground
In this episode, we talk about not overthinking things, referencing Dostoyevsky's character in his book Notes From Underground. We organically come up with reasons for why we overthink, present criteria for self-diagnosing when we overthink, and suggest potential solutions to not overthink. Abhinav also reads out The Road Not Taken by Robert Frost as an analogy.
Simon Sinek: The Power of the Infinite Mindset
I have enjoyed listening to Simon Sinek's ideas on leadership, purpose, and values. In this episode, Sinek redefines the approach of living life, and inspires us to live as if life were an infinite game, not a finite game.
Article of The Week
13 Life Lessons From 13 Years of BrainPickings
This was my favorite article of the week. Maria Popova, the curator of Brainpickings, has been bringing to surface hidden gems of literature, and this article essentially captures her key life lessons from 13 years of running this beautiful website.